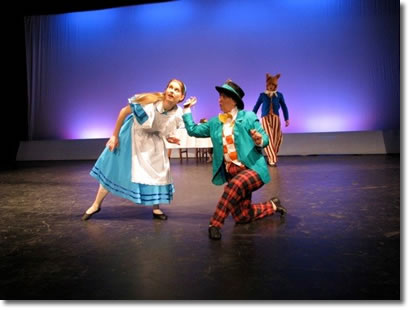 DANCE DELIGHTS
Dance Delights is coming to a venue near you soon! The Val Deakin Dance Theatre Trust's usual summer programme of Garden Delights was postponed due to so much wet weather, and has turned into an equally delightful programme of dance, and live music in various indoor venues.
A wide ranging programme of classical ballet (romantic, classical and Spanish-styled), contemporary dance, character and tap dance will delight audiences of all ages – with a wide variety of wonderful costumes and music. Some of the Dance Theatre's most experienced and skilled dancers will be in the programme including Jane Roseman, Inge Vink, Rosanne Taylor, Mervyn Chivers, Donna Kelly and Davina Moffat. In addition two fun items will be presented by younger children and the programme showcases director Val Deakin's wide ranging choreographic skill.
Live music segments will be presented by Guitarra – guitar duo Dominique Blatti and Ross Townsend playing a mixture of works from around the world.
Performances will be given at the end of May:
Saturday, May 20 2 pm Inglewood's St Andrew's Church Hall
Sunday, May 21 2 pm Oakura Hall, Main Road, Oakura
Saturday, May 27 2 pm Bell Block Hall
Sunday, May 28 11 am Dance Centre, 306 St Aubyn Street, New Plymouth
Sunday, May 28 2 pm Old Folks Hall, Warre Street, Waitara
Tickets are still only $10 for a wonderful and varied dance and music programme.
Advance bookings can be made by phoning 06 7527743 after 9:30 am and there are door sales.
The Dance Theatre is grateful to the Creative Communities Scheme New Plymouth district for their support for the programme.
The Dance Theatre is currently rehearsing for a series of performances of dance and live guitar music to be held in the North Taranaki area – in gardens if weather permits – or in local halls. It will be a wide range of dance on offer including classical, contemporary, comedy and character.
In May 2016 the Dance Theatre Trust presented a very successful production of ALICE IN WONDERLAND at the Dance Centre in New Plymouth. The large international cast enjoyed the opportunity to bring this magical story to life and portray the many and varied characters in Lewis Carrol's tale. Fantastic and magical costumes and lighting effects added to the wonderful choreography by Val Deakin – set to music by a range of 20th century French composers.
Several performances were also given in New Plymouth rest homes – allowing a less mobile audience to enjoy a range of dance and music by some of the Dance Theatre's most experienced performers, and young children as well. These programmes with a mixture of dance and live music continue to surprise and delight audiences.