PETER and the WOLF is coming!!!!!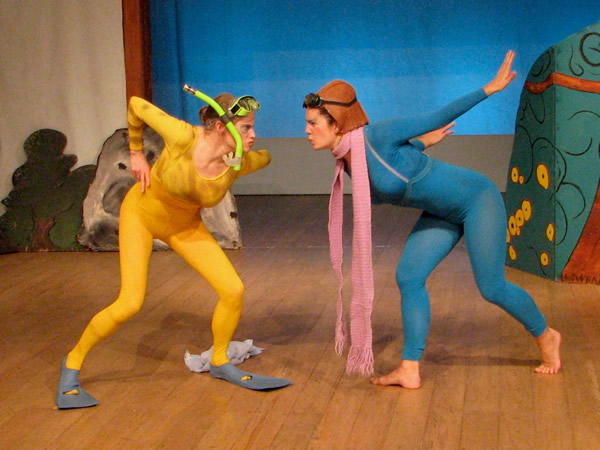 Fantastic fun for all the family is coming with the Val Deakin Dance Theatre's production of Peter and the Wolf. This classic tale is told with inventive choreography by Val Deakin, music by Sergei Prokofiev, spoken narration, mime and colourful and off-beat costumes in a story that will enchant all ages.
The Dance Centre venue is ideal for the show, allowing all facial expressions to be clearly seen and for the audience to be involved in the action. It is also a great introduction to the instruments in the orchestra.
A cast of 13 adults and children, new comers and experienced performers, will bring this comic story to life.
Performances will be at the Dance Centre, 306 St Aubyn Street, New Plymouth on:
FRIDAY, SEPTEMBER 4 at 9:30 & 11 am
SATURDAY, SEPTEMBER 5 at 2 & 4 pm
SUNDAY, SEPTEMBER 6 at 2 & 4 pm.
Tickets are $12 for adults, $8 for children with family and group discounts available. They can be reserved by phoning 06 7527743 (after 9:30 am) or by texting 027 6940933. As previous seasons of the show have sold out, we recommend booking in advance.
---
A new roof for the Dance Centre has given a dry and comfortable space for the Dance Theatre's current rehearsals for a programme of dance and music being taken into Rest Homes at the end of May and beginning of June. The programme includes children performing a ballet and jazz dance and adults performing the Fairy Variations from The Sleeping Beauty, a contemporary dance work entitled Nzers and sections of the very popular Forever Bubbles. The music from this last ballet, with popular tunes from the 1920's and 1940's is a hit with audiences of all ages. There are also live guitar segments by well know musician Dominique Blatti.
Performances will be at Jean Sandel Rest Home on Saturday, May 25 at 2 pm and at the Marinoto Rest Home in Inglewood on Saturday, June 1. Tickets are only $10 for this wonderful and varied programme – and are available at the door or in advance by phoning 7527743.
The huge project of re-roofing the Dance Theatre Trust's historic home, the Dance Centre, is complete. A very shiny new aluminium roof has replaced the old and rusting iron, and there are no longer inside waterfalls! The project, done by Farnsworth Roofing and Clelands builders, had some real challenges as the building has parts dating from 1892, but apart from a slip by one of the workmen who put his foot through the ceiling (and yes, he is ok!) things have mostly gone according to plan. This includes some new windows at the back of the Dance Centre. Many thanks to those who helped to remove years of props from the ceiling, and helped sort, label and put into new bags. Of course the Dance Theatre is fortunate as it still has the wonderful sprung wooden floors from the original buildings (1892 and 1927).