The Val Deakin Dance School has an annual Dance School Recital in December. The performances feature children aged 4 and up, teens and adults dancing an exciting range of dances of many different genres – ballet, character, national, modern, tap, comedy and ballroom dance. There are dances from the famous classical ballets as well as contemporary pieces choreographed especially by Val Deakin for the dancers involved. . Audiences enjoy the lovely colourful costumes and enormous range of musical types on offer.
Performances are held at the Val Deakin Dance Centre, 306 St Aubyn Street.
Students performing attend the Val Deakin Dance School in Oakura and New Plymouth.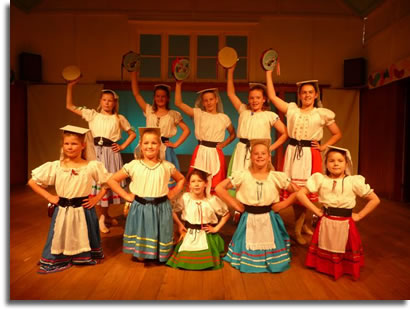 VAL DEAKIN DANCE SCHOOL
Classes available for children, teens and adults
PRE-SCHOOL: Movement class for children aged 3-5 years.
For rhythm, co-ordination, strength, awareness and social interaction through creative and play dances.
BALLET: GRADED CLASSES
Ballet I: Beginners aged 5-8 years. Exercises, basic dance steps, story dance and improvisation. Followed by graded classes for continuing study.
Ballet II: Second year studies for 7-9 years old.
Ballet III – V: 10 years and over.
Elementary, intermediate and advanced classes for adults and teenagers.
Special Adult beginners class.
After taking carefully graded elementary techniques, 2 or 3 classes per week are recommended. This allows for a development of stamina and strength. All age groups are approximations, taking into account the individual and background.
JAZZ; Children's Jazz from aged 6. exciting and fun rhythmic movement to popular music. Also Junior Jazz for 10 – 16 years old.
Adults – beginners to advanced
MODERN DANCE (Contemporary): Dance based on Martha Graham technique, breathing and central body control. A body conditioning class as well as dance combinations and improvisations.
TAP: A study of tap rhythms, steps and dances for children and adults
CHARACTER DANCE: a study of various national dance forms
e.g Russian, Mazurka, Tarantella
MIME: For dancers and those interested in the theatre. A language of movement and gesture and the carriage of the body (weight shift and emphasis)
PAS DE DEUX: The art of partnering for advanced students. Training for the professional theatre is available.
BALLROOM DANCE: Basic and Latin. Private lessons for weddings available.
NEW PLYMOUTH STUDIO:
DANCE CENTRE
306 St Aubyn Street
Dance studio terms run parallel with school terms.
Holiday classes are available.
WHAT DANCE CAN MEAN FOR YOU AND YOUR CHILDREN
1. Self-expression, creativity, the use of the imagination.
2. Fun and a sense of accomplishment.
3. The development of the senses in conjunction with body awareness.
4. Poise and agility – development of the mind and body together, through a self-initiated discipline (under experienced tuition).
5. Social awareness, relating in space and cooperating with others in their abilities and limitations.
6. An understanding of music, rhythms and the allied art forms.
7. Reliability and co-operation
8. All classes are taught without the pressure of exams or competitions.
9. Annual dance school recitals for performing experience.
CLASSWEAR
Ballet: Girls/Women: Plain colour leotards without skirt or frill. Pink tights or white socks and ballet shoes. Hair should be tied back off the face.
Boys/Men: Grey tights or shorts and white socks, t-shirt, ballet shoes
Modern: Leotards and footless tights.
Jazz: Track pants, t-shirt, leotard and tights, sneakers or jazz shoes.
Tap: Hard-soled shoes with tap plates.
Ballroom: Hard-soled shoes.
A Registration fee of $15 per year is payable to ensure the running of a class and secures a place for the student in that class. Term fees are payable in advance.
Single classes are $20 payable prior to the class.
Please Note: The Val Deakin Dance School is a privately owned business which is separate from, but affiliated with the Val Deakin Dance Theatre Trust, which is a non-profit educational organisation operating for the benefit of students from all schools, with open auditions held for performances.