50 YEARS OF DANCE
Photo Credit: Roger Richardson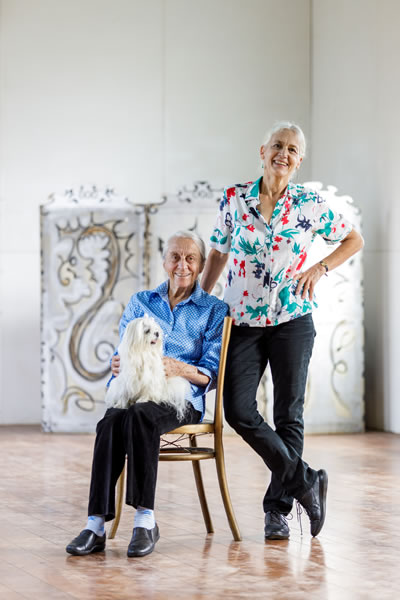 Val Deakin is a Taranaki name synonymous with dance and movement.
This year the Val Deakin Dance Trust she founded in 1973 celebrates 50 years.
A show celebrating the milestone, called "Belonging" will be performed at the Dance Centre on St Aubyn Street on the 7th, 8th and 9th of July.
Val's career and service to the field has spanned 8 decades of remarkable achievements.
"She has dedicated her life to teaching dance and creating dances for a wide range of people – of all ages and all abilities," says Jane Roseman, fellow dance teacher and business partner. Originally from New York, Jane joined Val at her fledgling dance school during the first year and has been a fixture ever since.
Val began her dance training at age 4 in New Plymouth and moved on to study in Wellington before heading to London to further her dance training. She was selected to attend the Royal Ballet School on scholarship and then sent to Ankara, Turkey to teach, dance and choreograph with the newly formed Turkish Ballet.
On returning to London she joined the Opera Ballet section of the Royal Ballet at Covent Garden – dancing, teaching and choreographing.
Val was invited to New York to join the Manhattan Festival Ballet as a dancer, ballet mistress and choreographer, then went on to join and later lead the teaching staff at the National Ballet School in Washington, D.C.
Val formed her own small dance company that performed throughout the East coast of the USA and in California.
In 1972 Val returned to New Zealand and the next year she founded a dance school teaching ballet, jazz, tap, modern (contemporary), character dance and mime.
The school and has given instruction to thousands of dance students, several of whom have gone on to make careers in dance, (like Michael Parmenter, Nigel Gallienne, Toby Parsons, Rebekah Claridge) and theatre. Val continues to oversee classes finding a way to let each person experience dance in their own unique fashion.
At the same time, she formed the Val Deakin Dance Theatre Trust, a performing group open to all to give public performances of a wide range of dance works – a total of almost 600 performances! These have included large-scale classical ballets such as The Nutcracker, Coppelia, Cinderella, La Fille Mal Gardee in large theatres and smaller works in halls, art galleries and theatres throughout New Zealand. Later performances in gardens and rest homes have been added to the mix.
For 15 years, Val directed several programmes of dance education taken into primary, intermediate and secondary schools throughout the North Island and parts of the South Island. In addition, she has taught many workshops in movement for actors, choreography, mime, theatre lighting and theatre make up.
"In my opinion one of Val's most significant contributions to arts and culture in New Zealand was fostering a love of all art forms for many generations of students in Taranaki," says Jane Roseman.
"Her classes were not just about the fundamentals and mechanics of dance but an education in all associated art forms: music, fine art and art history, theatre and stage craft. Much of her formative service occurred in pre-internet days when cultural and creative outlets in New Zealand, and especially Taranaki, were few and far between."
A life-long advocate and champion of women's rights, Val was awarded a Suffrage Centennial medal in 1993.
"Her international career is an extraordinary story for its time, Jane continues. "No-one else from New Zealand was doing anything like this at the time, and she was successful not just in the UK but in Turkey and the USA as well – a truly international career."
BELONGING: 50 years of dance – Friday July 7th (7:30), plus Sat July 8th (2:30 and 7:30) and July 9th (2:30 pm).
There will also be a big social get-together on June 10th for past members of the Dance Theatre, Dance School students, audience members, friends and supporters
DANCE DELIGHTS
The Val Deakin Dance Theatre Trust has presented a huge variety of DANCE, MIME, THEATRE and MUSIC performances for over 40 years. Included has been a wide range of programmes in theatres, halls, art galleries, gardens, schools and in the streets! Special programmes have also been given in Primary, Intermediate and Secondary schools throughout New Zealand as well as for rest homes, special functions and corporate groups.
The Val Deakin Dance School offers classes for pre-schoolers through to adults of all ages and experience and is led by internationally experienced choreographer and teacher Val Deakin.
The Dance Theatre Trust aims to teach and present high quality dance – seeing dance as an expressive art form.