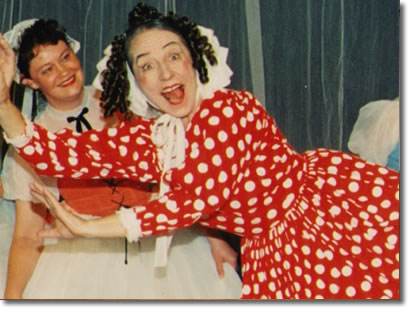 VAL DEAKIN: Born in New Plymouth. Trained at the Arts Educational School and on scholarship at the Royal Ballet School, London.
Teachers have included Margaret Craske, Molly Lake, Pamela May and Harold Turner. In 1958 she was sent by the Royal Ballet for the British Council to the State Conservatoire, Ankara, Turkey under the auspices of Dame Ninette de Valois. In 1960 she was invited to return to the Royal Opera House, Covent Garden, London, where she choreographed for the Opera Ballet (e.g. La Traviata, Othello) as well as dancing with them and appeared with the with the Royal Ballet in such well known works as Swan Lake and Cinderella.
She directed the National Ballet School in Washington, D.C. and her own company in the USA.
Her works have been performed by the New Zealand Ballet and shown on television in the USA and New Zealand. She has received several grants from the QEII Arts Council (now Creative New Zealand). Recipient of the Women's Suffrage Centennial Medal in 1993, the Taranaki Soroptomists Women of Spirit Awards in 2008 and recently listed in the "Who's Who" of America.
Her studies in all facets of dance and theatre production enable her to give an all-round training for the theatre. She is the director of the Val Deakin Dance Theatre Trust which performs throughout New Zealand and has toured to England. The Trust presented the first pilot programme of lecture/demonstrations in schools and continued presenting programmes in schools for over 10 years.
Val has been an active member on various Arts Council and committees over the years including the Dance selection panel for the QE II Arts Council.
Val Deakin was recently awarded a New Plymouth District Citizen's Award. Dance legend Val Deakin has taught generations of Taranaki children how to move with grace and counts some of New Zealand's dance stars among her former students. She was also recognised for her work with the environment and championing women's rights.
CHOREOGRAPHED WORKS AVAILABLE:
Classical ballets: Full length
Alice in Wonderland (Les Six collage)
Cinderella (Prokofiev)
Coppelia (Delibes)
La Fille Mal Gardee (Herold/Lanchbury)
Nutcracker (Tchaikowsky)
Sleeping Beauty (Tchaikowsky)
Snow White ( Bax, Elgar and others)
Classical ballets: One act or short
Ancient Aires (Respighi)
Arensky Dances (Arensky)
Bizet Variations (Bizet)
Brahms Trio (Brahms)
Carnival of the Animals (Saint-Saens)
Coral Suite (Tchaikowsky)
Chrysalis (Martin)
Danza Romantica (Stoltz)
Devil's Dice (Hummel)
El Amor Brujo (de Falla)
Fantasia (Levitsky)
Faust Suite (Gounod)
Flashback (Ken Wilson and compilation)
For Roberto (J S Bach)
Forever Bubbles (collage)
Gayne (Khatchaturian)
Guide to the Orchestra (Britten)
Hat Trick (Blacher)
Jardin d'Amour (Faure)
Kites (Benjamin)
La Boutique Fantasque (Rosenthal/Rossini)
Masque of the Red Death (Caplet)
Nightdrift (Grieg)
Paris Banquet (Ibert)
Peter and the Wolf (Prokofiev)
Polovtsian Dances from Prince Igor (Borodin)
Reflections (Chopin)
Rhapsody in Blue (Gershwin)
Rodeo (Copland)
Rope Triangle (Biss)
Seasons of Love (Gunther)
Shakespeare's Spell (collage)
Snow Maiden (Carr)
Suite No. 3 (Tchaikowsky)
Spanish Suite (Soler)
Steps in Time (collage)
Strauss Reveries (Strauss)
Tales from Mother Goose (Ravel)
Three Salts (Creston)
Touch and Go (Abramson)
Tubby the Tuba (Kleinsinger)
Also jazz, character and contemporary dance works
---
JANE ROSEMAN: Studied at the School of American Ballet in New York where her teachers included George Balanchine and Alexandra Danilova. At 16 she was the youngest member ever contracted by the National Ballet Company, Washington, D.C. She has appeared with the California Ballet Company, Maryland Ballet Company, Manhattan Festival Ballet, Capitol Ballet, Jean Erdman Open Eye Theatre, Portland Dance Theatre and Dance Concerts, D.C.
Her studies included folk dance, modern (Anna Sokolow, Viola Farber), jazz (Luigi, Matt Mattox), mime (Claude Kipnis), historical (Wendy Hilton) and ballet (Margaret Craske, Val Deakin).
She was an original member of a group of young dancers who formed the Val Deakin Dance Company in the USA (all students of Val Deakin). In 1973 she came to New Zealand on a working holiday to continue her studies and teach in the Val Deakin Dance School, and was a founder member of the Val Deakin Dance Theatre Trust.
In 1979 she was awarded a QE II-Air New Zealand overseas study grant.
She has worked on various Arts Councils and committees and is a dance reviewer for the Taranaki Daily News.